FOX LAKE, Ill. (WLS) —
A manhunt is underway in far north suburban Fox Lake for three men after a police officer was fatally shot Tuesday morning.
Police said the suspects – described as two white males and one black male – should be considered armed and dangerous.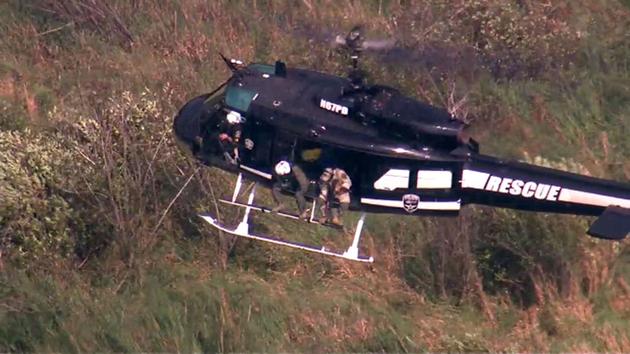 Authorities search for three men considered to be armed and dangerous in far north suburban Fox Lake on Tuesday, Sept. 1, 2015.
Lake County Sheriff's Dept. Det. Chris Covelli said a Fox Lake police officer was shot while responding to a call of three suspicious people near Route 12 and Sayton Rd around 7:52 a.m.
After communication was lost with the officer, his backup arrived on the scene to find him injured with a gunshot wound, Det. Covelli said. A law enforcement source says the police officer has died.
"At this time, we're asking all area residents to remain inside. Report any suspicious activity, any suspicious people, by dialing 911 as we still have three offenders at large," Det. Covelli said.
Local authorities were seen searching a wooded area near the scene on foot and by helicopter for several hours. Canine units were brought in from various jurisdictions, including McHenry County. FBI agents and U.S. Marshals are also assisting in the search, according to spokespersons for both agencies.
Rollins Road is closed from Route 59 to Grand Avenue. Investigators also blocked off part of the frontage road leading to U.S. 12.
Metra officials said no trains on the Milwaukee District – North Line are moving beyond Long Lake. Outbound passengers will be bussed to Ingleside and Fox Lake stations until further notice. Inbound trains will originate at Long Lake, Metra said.
Grant Community High School is on hard lockdown. Superintendent Christy Sefcik said the school went on lockdown around 8:30 a.m. She said all students and staff are being kept away from exterior glass and out of view.
The Facebook pages for Gavin School District and St. Bede School in Ingleside said the schools are on soft lockdown.
If you are in need of legal advice, please call The Dailey Law Firm. To schedule an appointment today, call the Michigan office at 248-554-5005, the Illinois office at 312-867-8800, and the Missouri office at 855-529-7469.